Introduction
Imagine you are walking on a busy road, on a bright sunny afternoon and desperately need water to quench your thirst. If you are not carrying a bottle of water, the immediate solution might be to buy a bottle of packaged drinking water. Another answer to this also might be the Water ATM: an automated water dispensing unit that is new in Indian cities, but taking root rapidly. However, the question is what could be a more traditional and sustainable approach to access water. We know of different types of wells, dams and piped water systems that have been used to fetch potable water. But less is known about manually operated drinking water dispensing units. These are narratives of the 'pyaavs' and 'paanpois' from the Pune Cantonment, two lesser known yet important perspectives of water dispensing units.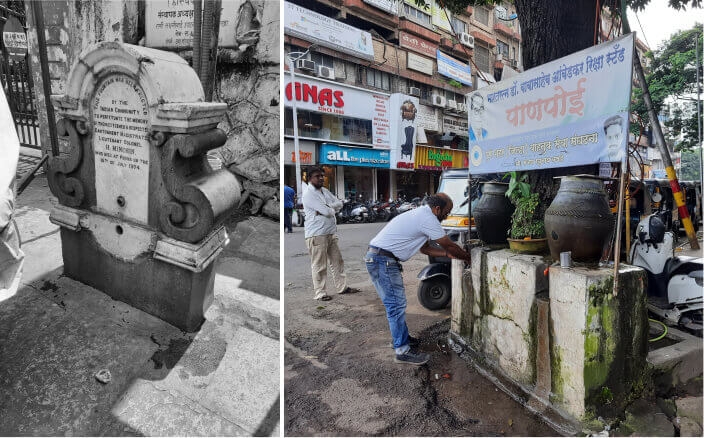 Water from the streets
The historic drinking water fountains are locally called as pyaavs while modern water dispensing units are generally called as paanpois. However, this nomenclature is often used interchangeably as well. The East street, MG Road, Solapur Road, Bootee Street of Pune Cantonment is a small geographical area within which there are two historic drinking water fountains and six new water dispensing units. Every structure has a unique facet and each locality has a unique story.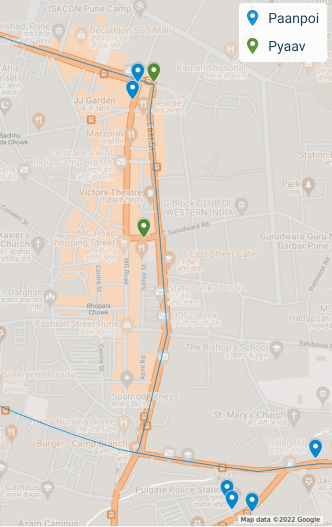 Vital facets of drinking water units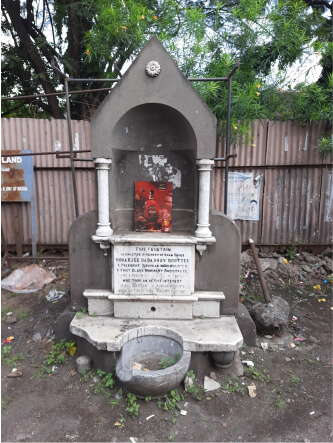 1. Drinking Water Fountain : Pyaav
There are only two-three such pyaavs, colonial period drinking water fountains in Pune, which were patronised in the memory of deceased souls. Two structures are extant today, however they are dysfunctional. Pyaavs are testimonials of a legacy of philanthropy that took root in many Indian cities during the 20th century.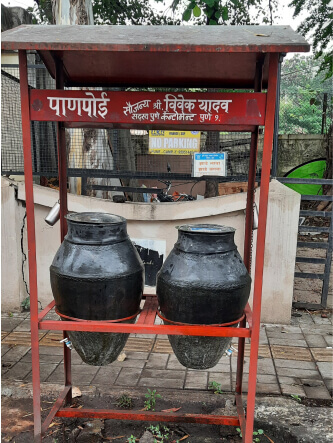 2. Drinking water dispenser : Paanpoi
Similar in their motive of providing drinking water like the elaborate pyaavs, there exists a practice of installing paanpois. Backed by community support, such drinking water dispensing units are a good source of drinking water on streets. Paanpois are simple in form but highly utilitarian in nature.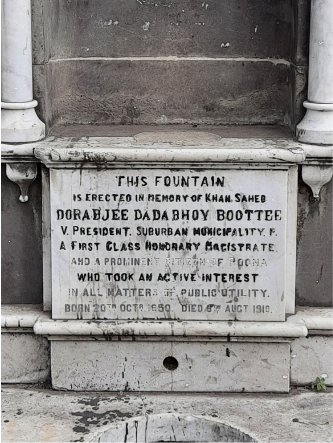 3. People, Philanthropy, Memory and Water
The common thread that connects these two forms of water dispensing units is the act of philanthropy and provision of potable water. Preserving the memory of the deceased soul and sharing it with society, is another vital aspect of all the old and new water units.
The past versus the present
With centuries apart, the Ambedkar Chowk in Pune cantonment (or Camp Area as it is commonly known) has seen both a pyaav and a paanpoi.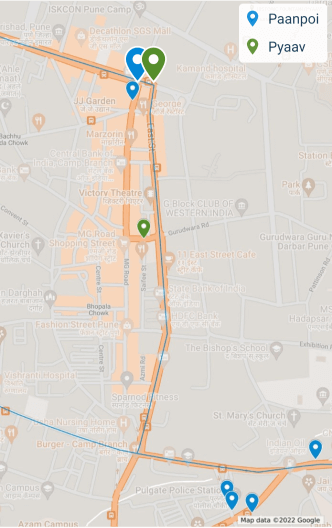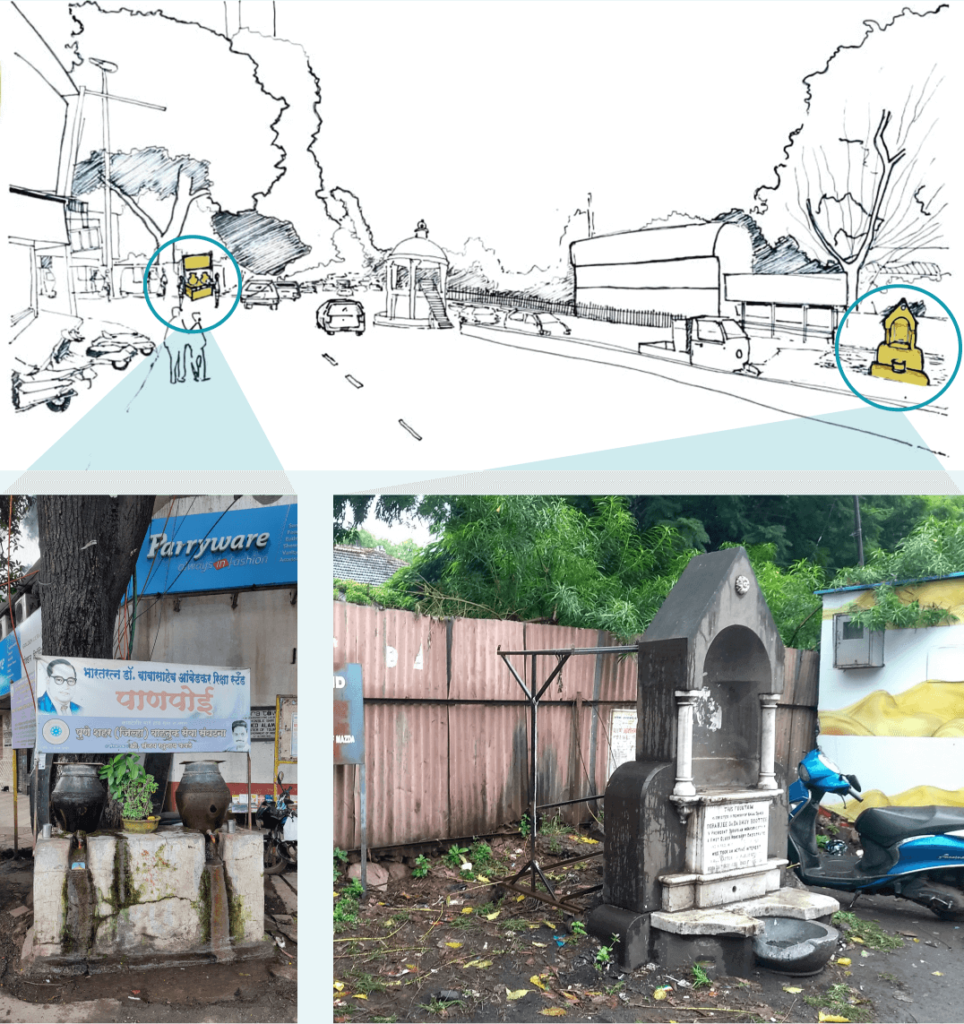 The Pyaav
Dating back to 1910, the pyaav is one of its kind, situated outside the once-famous Napier hotel and built-in loving memory of Late Dorabjee Dadabhoy Bootee. Late Dadabhoy Bootee was a prominent personality of the city administration as well as the social life of Poona city in the early 20th century. He was the Vice President of the Municipality and Proprietor of Napier Hotel.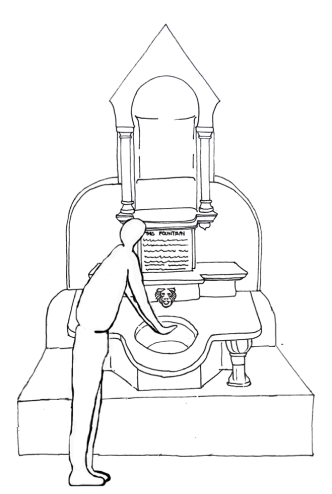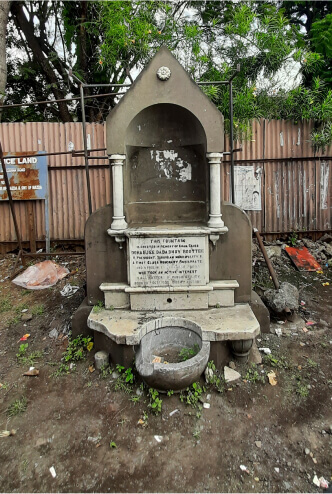 The Bootee pyaav lies dilapidated in a filthy condition to one corner of the road. Built out of marble and black basalt stone, it has a trough and a water spout for people to drink water. It must have been a water dispenser for anyone traversing through East Street at one point in time. The plaque on the lower half of the structure has etched lettering.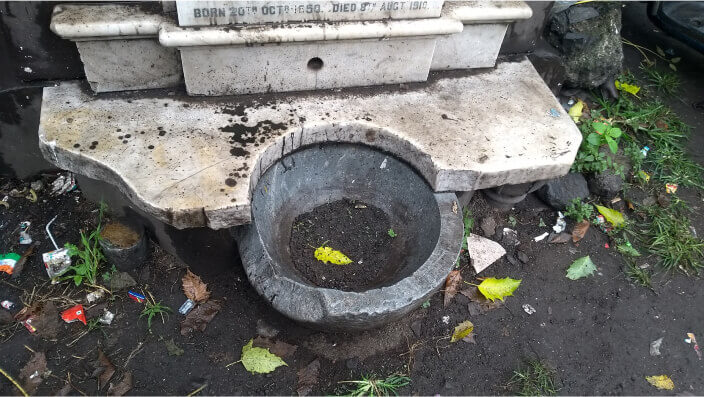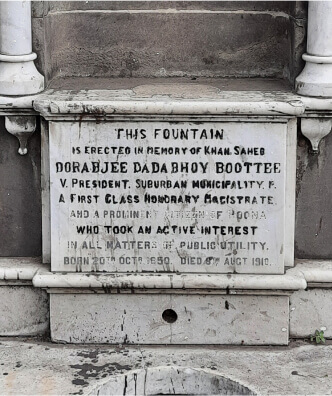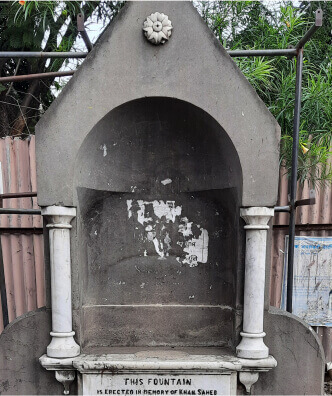 The Paanpoi
The motive behind the setting up of this paanpoi is to provide free drinking water to auto-rickshaw drivers who queue up their autos in the lane as well as to any commuter who feels thirsty. This Paanpoi unit consists of two earthen pots that are filled with water by the people who use them. These earthen pots keep the water cool even during scorching summers.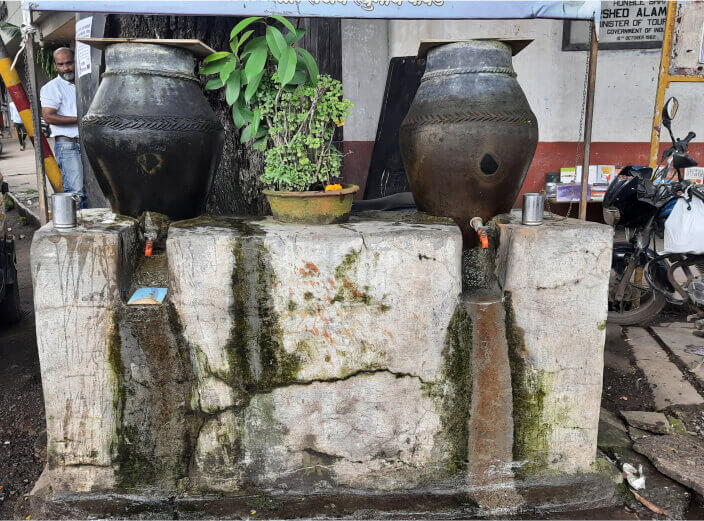 Lost in the urban chaos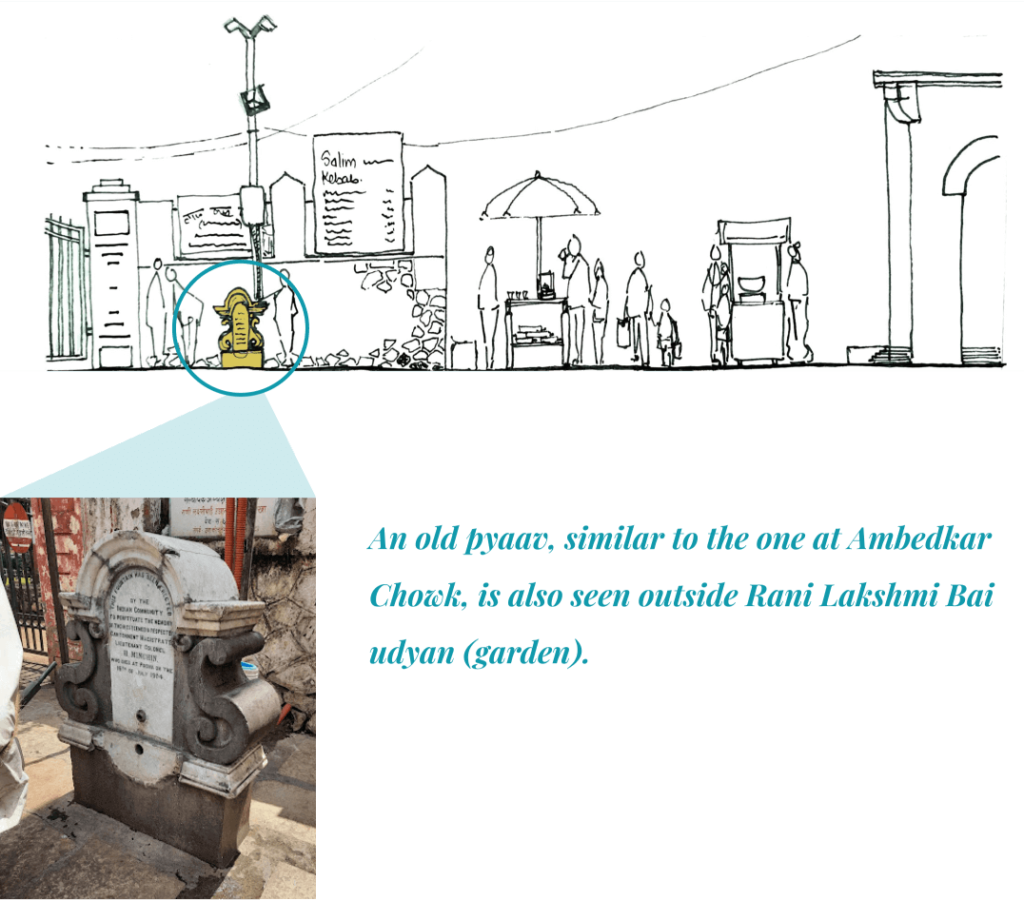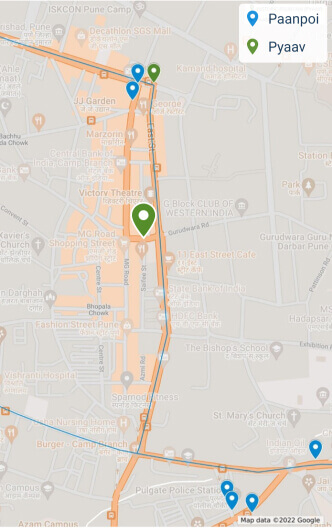 This pyaav built in early 20th century has suffered through time. The surrounding ground level has risen so much that it has taken up the plinth of the structure. Being outside a Rani Lakshmibai Udyan, on the corner of a narrow lane, this pyaav must be a thirst quencher for locals, visitors to the park and other commuters. However, today the pipe connection providing water is defunct, making the pyaav unusable. Interestingly, the patron of this pyaav is labelled as the 'Indian Community' on the plaque, which apparently donated this pyaav in memory of the cantonment magistrate Lieutenant Colonel H. Minchin. But the community living in its vicinity today does not have any connect with this water dispenser.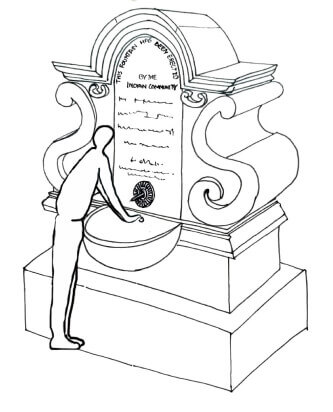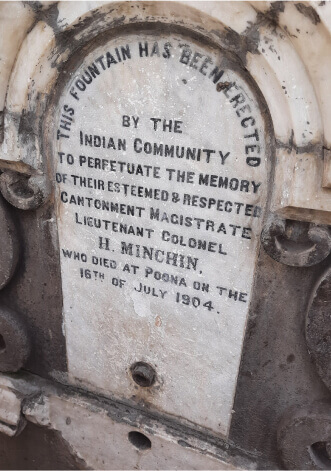 Ironically, now it is being used as a support to stack empty water buckets and dustbins. The pyaav is surrounded by eateries, coffee shops, tea stalls and street food shacks. But this old structure remains neglected and lost in the urban chaos. Though the functionality of this pyaav is lost, the requirement of public drinking water dispenser in the surrounding areas persists. Steps to restore and revive such pyaavs, if taken by civic bodies, can aid in reinstating the lost heritage as well as reduce the use of packaged drinking water to some extent. Like newly built paanpois, old pyaavs can also become thirst quenchers.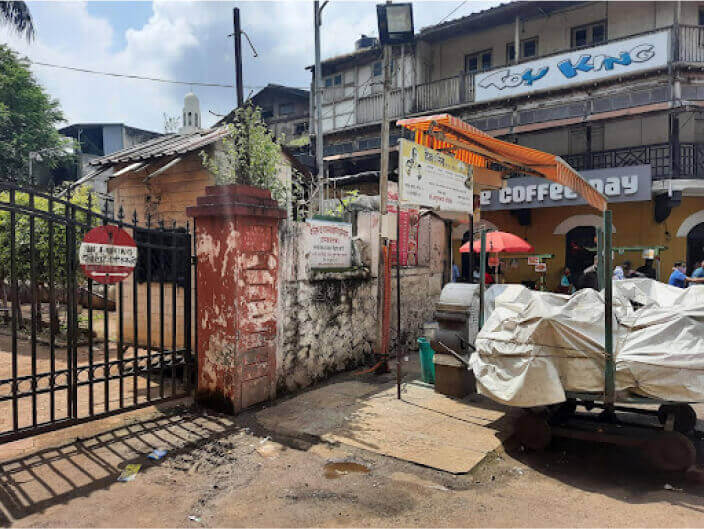 Novel ideas of dispensing units
Traditionally, paanpois setup along city roads more often seem to have been earthen pots. However, there are a few examples of stone structures like the Solanki pyaav, built off the East Street in 2005, but which has fallen out of use now. It was constructed as an outcome of the philanthropic efforts of the Solanki family.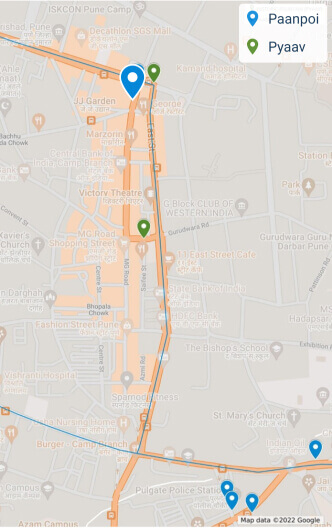 Another interesting example comes from the Solapur bazaar police chowki, situated at the juncture of Solapur road, where Shrimati Vasantibai Andraji Mutha has donated a paanpoi in the form of a water cooler. This was also built in 2005 and is still in use today. The tradition of providing free drinking water in memory of the deceased is being continued with a new refurbished look.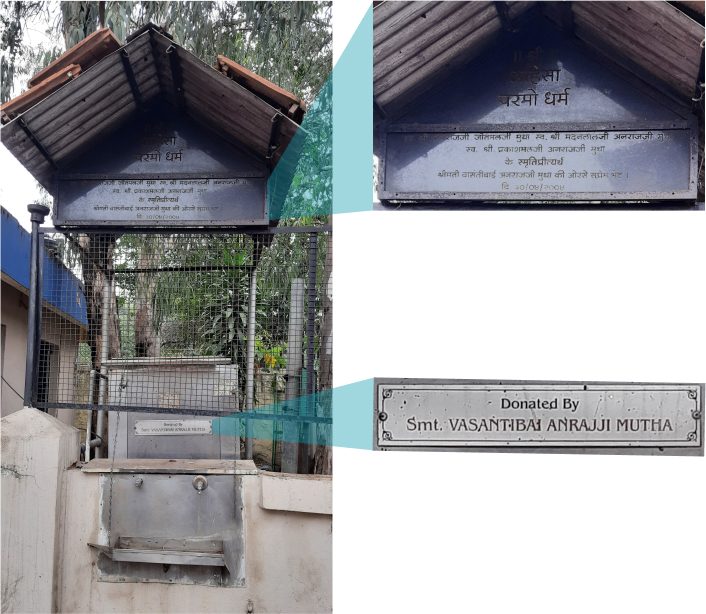 The road that connects to Solapur Bazaar Police Chowki is rich in hosting paanpois.
On the Solapur road, near Pulgate bus stand, there are three paanpois within half a kilometer radius. There is one earthen pot paanpoi next to the Mutha water dispenser, one outside Mutha bungalow. Donated by a resident of Pune cantonment, a certain Shri Vivek Yadav is the patron of the paanpoi next to Solapur Bazaar Police Chowki on Napier Road.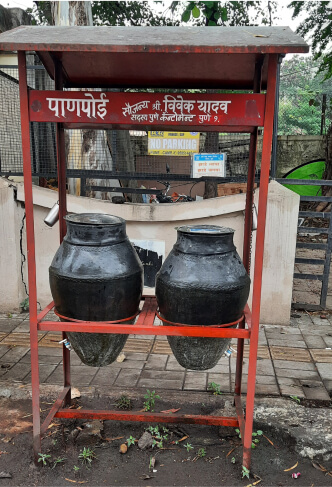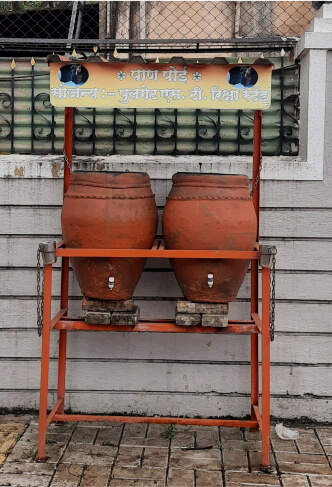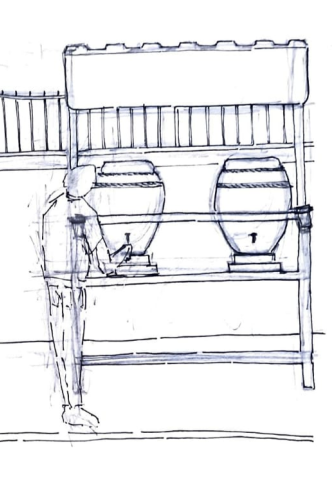 The paanpoi outside Mutha Villa is constructed out of the joint efforts of Pulgate Rickshaw Stand members. The members of this group take care of the earthen pots and fill it up using a tap just next to it. An auto-rickshaw driver says that this allows them to fill drinking water in their bottle while they are waiting at this stand for passengers.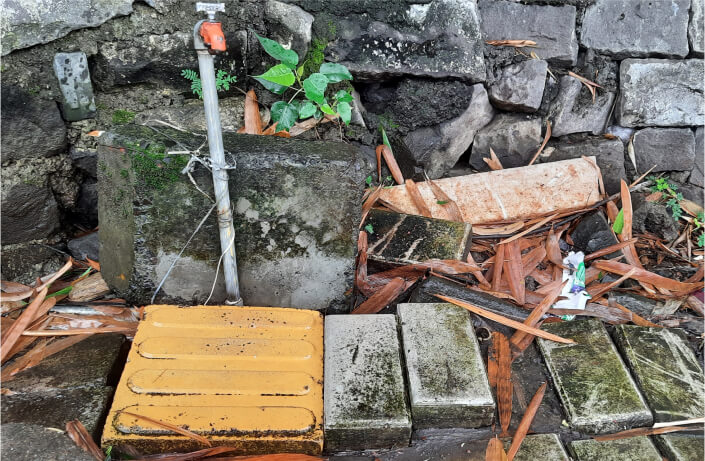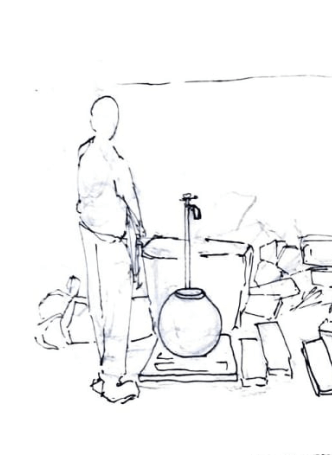 Some stories of lost treasures
An iconic pyaav (drinking water fountain) which was built during the Queen's Jubilee year for the troops on the rifle range, is not to be found in the current cantonment settlement. An old sketch exhibits the artistic fountain which has beautiful gable roofs, water basins on two sides and gargoyles as water spouts. This probably must have been one of the city's most exquisite drinking water fountains. An old newspaper clipping writes that it was erected by Command of the Duke of Connaught to commemorate the Queen's Jubilee and designed by J. Adams who was the architectural executive engineer and surveyor to the Government. Based on this cursory information, this pyaav is likely to have been built in late 19th century. This piece of water heritage needs to be traced and mapped on the city's water narratives. It is a unique element of architecture associated with water and a testimony to the people who thrived on its water.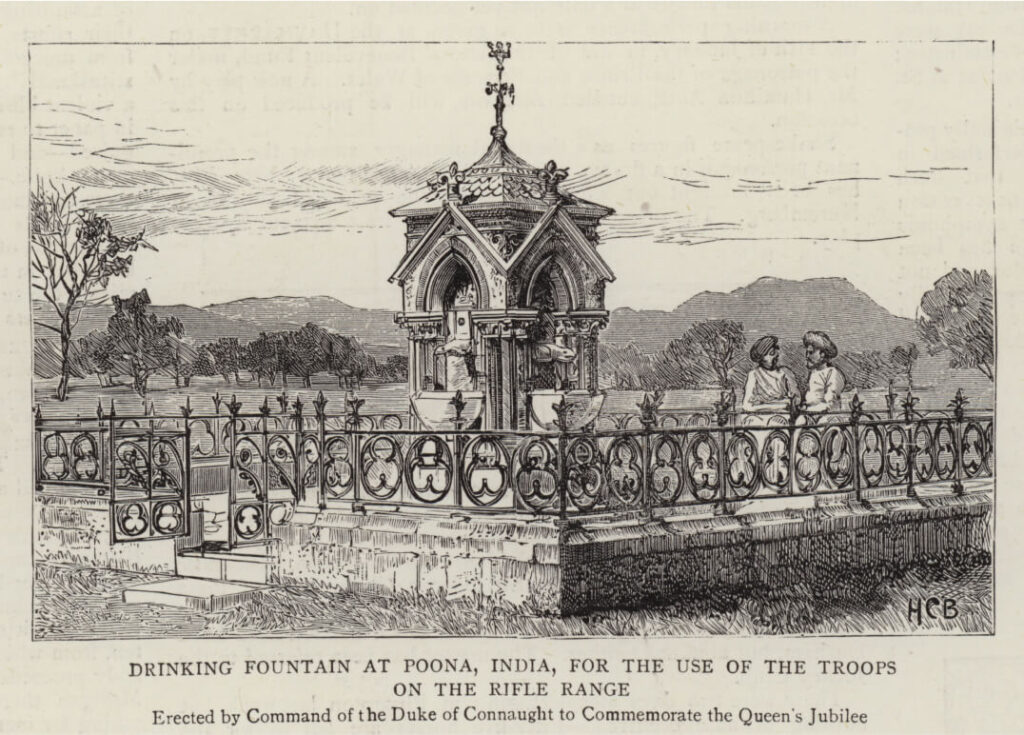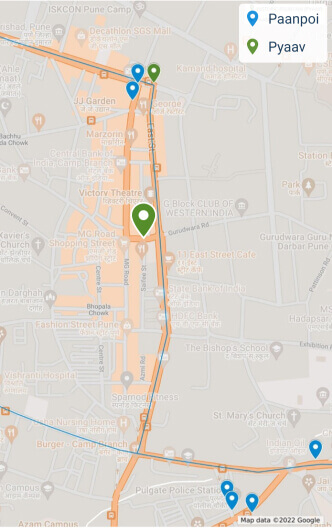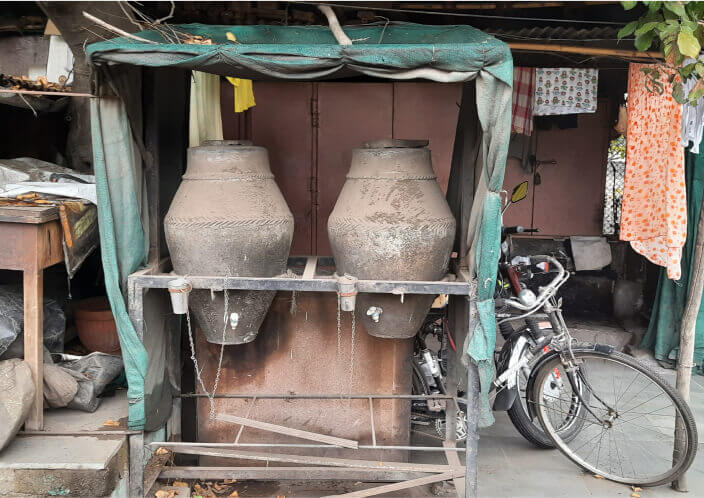 While on one hand, historic fountains are defunct and unknown, on the other hand, some modern paanpois are also left unattended. It is a fading out tradition in current times. It is necessary to not only acknowledge the presence of pyaavs and paanpois but also an effort is required to reinstate the system of public water dispensing. This water element is connected to the city streets and it creates spaces for commuters to pause and rest. A Marathi poem written by Kavi Yashwant befits this narrative –
which can be read in this context that paanpois are all accommodative, invites everyone to share water and unknowingly builds a connect through water.